Ocala Horse Shows and Horseback Riding
Marion County, Florida
Ocala Horse welcomes you to the equestrian paradise of Ocala, located in the rolling hills of Marion County, Florida. Here, many of the nations top horse breeders perfect their craft, producing thoroughbred race horses as well as virtually every other breed of horse. Ocala, Florida is also winter headquarters for the HITS show jumping winter series at Hits Post Time Farm.
Horse farms create stunning vistas of endless green grass accented by black horse fencing and majestic oak trees. Here, future racing thorobreds and horse show champions are born. A visit to a one of the many horse farms open to the public is a must.
Florida Horse Park, an attraction in itself, is the center of horse shows for North Central Florida. Skilled jumpers or disciplined dressage riders compete for ribbons almost every weekend.
Winter months bring professional riders to the famous Horse Shows in the Sun (HITS) circuit has been performing at Hits Post Time Farm in Ocala, Florida from mid January to mid March for over 30 years.
The HITS Ocala Winter Circuit offers grand prix show jumping classes in divisions for the beginner, novice and experienced rider. The circuit features 21 grand prix events worth over $1.5 million in prize money, which the Great American $1 Million Grand Prix to close out the circuit.
Hits Post Time Farm is located at 13710 US Highway 27 in Ocala, Florida. Spectators are welcome.
Rocking Horse Stables offers a full slate of Dressage Shows, Combined Training Schooling Shows, and Pony Club National Testing events. Located in Altoona, Florida which is close to Ocala, Tampa and Orlando. Rocking Horse
Canterbury Showplace is a beautiful Equestrian Center located in nearby Newberry, Florida and is open to horse-related events, horse eventing, and classic horse shows. Show schedule click here.
Staying in the Ocala area? Visit Hotels in Ocala for complete hotel, car rental and attraction reservations. Planing a trip to Orlando? Make reservations here.
Enjoy a leisurely horse carriage ride through horse country and enjoy the informative banter of your guide.
Jun 16, 2015
Poll Recap: It's Hot Outside!
Jennifer Whittle
Summer is nearly here, (in Florida it is here) which means things are heating up quickly. While some horses and riders can handle high temperatures better than others, heat combined with humidity can take a toll on any pair. So where do you draw the line?
In last week's online poll, we asked our readers what temperature they consider it too warm to ride their horses. More than 1,450 people responded, and we've tallied the result
Of the 1,474 respondents, just over half (761) said they do not ride when it's warmer than 90°F, while 323 (22%) said they did not ride when its over 100°F. Another 274 individuals (19%) said they chose not to ride if the temperature is warmer than 80°F, and 73 respondents (5%) say they avoid riding in temperatures warmer than 110°F. The remaining 43 individuals (3%) chose "other." More info...
Jun 11, 2015
10 Hot Weather Horse Care Tips


Summer heat can be dangerous for horses, resulting in dehydration, lethargy, and general malaise. Severe heat stress can cause diarrhea, or even colic. But owners can take important steps to keep horses safe and comfortable during the hot days ahead.

In a release issued by Janet Johnston, DVM, Dipl. ACVIM, ACVS, an emergency critical care veterinarian at University of Pennsylvania School of Veterinary Medicine's New Bolton Center, suggested the following ten tips to keep your horse comfortable and safe in the summer heat. More info...
Jun 10, 2015
Jitterbug's Guide To A Happy Marriage
by Jitterbug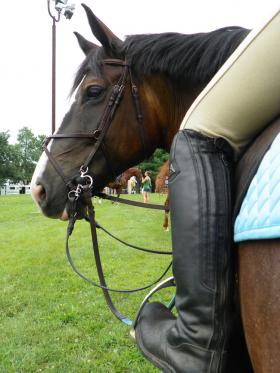 The day my Human bounded into the barn aisle with a glittery thing on her left hand (which turned out not to be a peppermint fragment, as it happened…oops) probably delivered the largest surprise of my week. I will never quite understand how I managed her through that relationship successfully, yet still can't get her to boost my hay ration to a first-world level. More info...
Jun 9, 2015
Equine Law: Dogs and Horses
Kjirsten Lee, J.D.


Dogs and horses go together like the Fourth of July and fireworks – usually a great combination, but sometimes not so much. Many barns have a resident greeter who comes to car doors, tail wagging and tongue lolling. These guys are often seen attached to the end of a lead rope at horse shows, standing at in-gates, walking cross-country courses, lounging in front of tack stalls. They are used to being around horses, and many of them love their bigger partners in crime. More info...
More Ocala Horse News
© 2009- 2015 My Ocala Horse. All rights reserved.